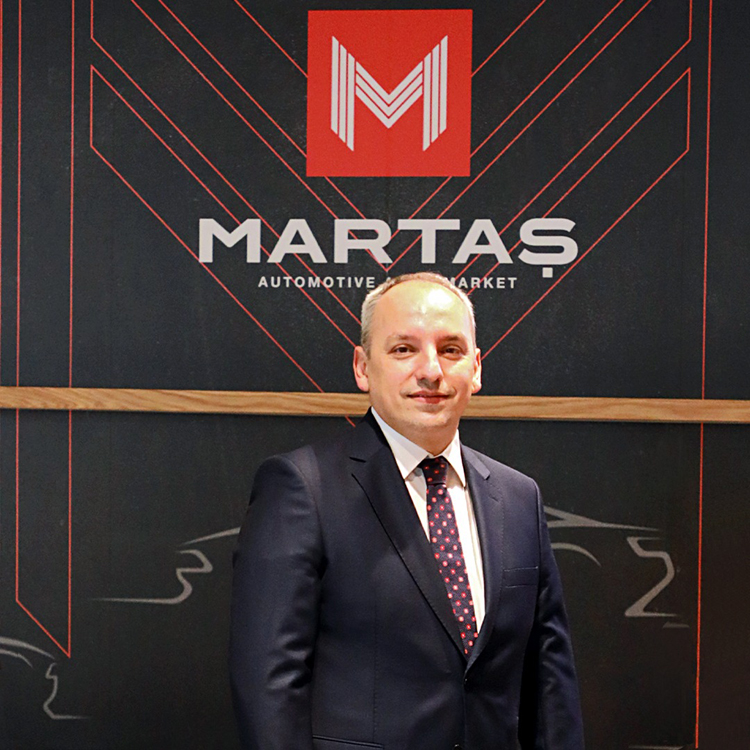 Biography of our General Manager Erdem Çarıkcı
Erdem Çarıkcı was born in Istanbul in 1976. After completing his high school education at Üsküdar Burhan Felek High School, he has graduated from Kocaeli University Department of Computer Engineering in 1999. He has completed his postgraduate studies in 2005 with a MBA degree from Gebze Institute of Technology.

In 1998 he started his career at Valeo, a French company, as an engineer intern. This journey continued for a full of 22 years, with seven different positions and two important international assignments as an ISP. His career in Valeo lasted as Valeo Service General Manager in December 2020.
 
Beginning from 2021 he has been working as the General Manager of Martaş Automotive. Erdem Çarıkcı is married and has two children.

Language: English, German.
A Message from our General Manager
With a history of more than 40 years, Martaş Automotive is one of Turkey's leading spare part distributors. Its fundamentals are built on the main principles of trust, persistence and quality. During this long journey and prospering with continuous commercial progress, Martaş Automotive has also succeeded in managerial structure. The torch which has been fired by Hadi Özalp 40 years ago, has been passed to the second generation in the early 2000s and with the beginning of 2021 Martaş Automotive has taken the first steps to become a fully professionally run company.

Martaş Automotive has placed customer satisfaction and customer trust in the centre of every process. With each and every step, it aims to perfect these two fundamental principles. To pursue this long-lasting approach, we will uninterruptedly continue to follow-up the global arena and continue to incorporate new trends in our company and our market.

In the changing and transforming world of automotive spare parts, we will increasingly continue to invest primarily in our team, in our continuously developing technology and in our supply chain infrastructure which we act upon day after day.

Being established upon this vision and these fundamental principles, besides being the largest and most competent spare part distributor in Turkey, our primary objective is also to be an international player by utilizing our know-how and experience.

With the strength stemming from our roots and the global point of view firming by our international partnership with ATR, one of the leading procurement networks in the world, our fundamental principles adding value to our country, to our market and to our business partners will continue to lead our way.